We are happy to provide curbside pickup during these uncertain times. As long as this page displays on the website, you can know that curbside pickup is an option. To ensure an efficient and safe transaction, please follow these procedures:

ORDER AHEAD FOR PICKUP ON SATURDAYS
Place your order anytime before Friday noon by calling or texting to 317-773-7942. Please give your name, wine names, quantities and preferred pickup time. We will confirm or adjust the time slightly to stagger traffic.

PLEASE REMAIN NEAR YOUR VEHICLE
Call or text to announce your arrival. A mask is required to be worn outside your vehicle. Your wine will be placed on an outdoor table for you to pickup. Sorry, but during curbside service we are not able to provide any outdoor seating. You should plan for your visit to be brief. There is no restroom provided.

COMPLETE YOUR NO-CONTACT PAYMENT
Payment can be made in three ways:
1) Cash (exact change appreciated)
2) Credit or debit cards by reading numbers aloud
3) Use of link for those who have PayPal accounts
The form below is shown to help you anticipate your total purchase. It is not necessary to print it. Your order may be placed by calling or texting 317-773-7942. Please reference the "Wine List" for descriptions of each wine.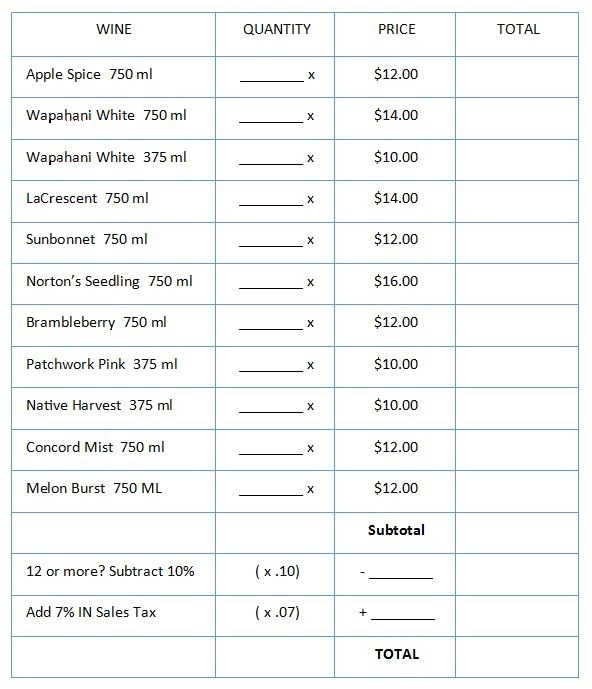 It is recommended that all surfaces of cardboard, paper or glass picked up from here (or anywhere) be handled with safe "time-out" plans and careful hand washing. We truly apologize for these inconveniences and regret the unfriendly atmosphere created by all of the precautions. We look forward to a time when we can return to full access of the property and more meaningful visits.
Thank you so much!