Vineyard Journal Archives
January 2, 2009
The low winter sun casts long shadows from our vineyard posts and bare trees. Surrounded by these foreboding sundials, we are reminded that the time to plan our building project has passed and the time to implement those plans is upon us. Emails and phone calls are made today to rally our team – architect, septic designer and all designated contractors.
January 5, 2009
Five stacks of deeply grooved panels, both arched and straight, occupy the garage so our vehicles are enduring the snow and ice. We have purchased a building system of steel panels to create a self-supporting rounded roof with 9-foot walls. Very excited about this system. The freespan roof allows for an efficient floorplan with flexibility for second floor expansion. Vents were omitted from the original shipment but we cleared this up today.
January 12, 2009
Final adjustments on blueprints are being made with the architect for our building permit. Complications of a commercial septic system and late electrical bids have prompted us to seek a permit with no utilities that would allow us to erect a weather-tight shell. We do however want to be sure that a septic solution is on the horizon before we enter into "Phase 1" of construction. A meeting this past week with the septic designer was encouraging.
January 16, 2009
A permit was issued today from the county highway department for a commercial drive. Our approved proposal is to utilize our current long driveway by adding a pull-off area between the road and the winery. This creates space for exiting cars to defer to new arrivals but retains all the country charm of our winding entrance.
January 29, 2009
A persistent snow cover for several weeks has made feeding the birds a serious endeavor. We've added a new feeder received as a Christmas gift. It has a smaller platform and the larger birds seem unable to stand on it so we'll try it as a millet feeder targeted at the smaller birds. A chunky "trail mix" will go in the other feeder that is more suited to the larger birds. Regular customers are cardinals, juncos, tree sparrows, nuthatches, red-bellied woodpeckers, blue jays, gold finches, red finches, doves, and english sparrows. A 10″ snow last week has the rabbits scrambling for food. I left out some cabbage and carrots near their tracked paths.
February 5, 2009
No takers on the rabbit food – they have gnawed the bark on my dogwood tree instead! The larger birds are learning to sit on the small feeder now and the smaller birds stand their ground at the chunky mix feeder. The doves and juncos are happy to eat what falls to the snowy surface. I am amazed at the wisdom and resilience in such tiny little bodies.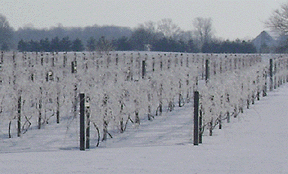 February 11, 2009
The news is all about the government's economic stimulus package. I am looking at some old advice concerning the government – written way back in the book of Deuteronomy. It was the concept of releasing people from their debts at the end of every seven years. Now wouldn't that stimulate the economy?
February 16, 2009
Pruning was started today. Vines are still plenty dormant but temperatures are in the 40s where it is pleasant to be out for a good length of time. My cold fingers need some dexterity to tie knots in the support straps in addition to working the pruners. This first pruning will focus on stubbing up the runaway canes that create tangles in the neighboring vines. All canes will be reduced to 8 or 10 buds until we are nearer the end of frost threats.
March 5, 2009
The state construction design release was issued on February 24th. We combined this with the highway permit and the architects drawings for submission to the Hamilton County Plan Commission, seeking a local building permit. Our initial meeting today went well.
March 20, 2009
The Concord pruning was finished on the 6th followed by the LaCrescent pruning wrapped up today. This photo shows the pile of cuttings awaiting the flame. A dormant spray of fungicide was applied on a tolerant and mature portion of the vineyard. We're having a few really warm days (74 degrees 3/7) but we're averaging where we should be in the 50s.
March 29, 2009
Low of 28 degrees. Wow, these swings in the temperatures are a little scary. Really hate to go below freezing after we've had some days in the 70s. Our late pruning strategy delays the opening of the most crucial buds and should keep our vines as safe as possible from late frosts.
March 31, 2009
Good news today! Our county building permit was issued. It includes an electric panel but no plumbing so the planned concrete floor (containing pipes, drains and electric radiant heat) will be on our next permit. We look forward to getting up the building shell this year and especially having the metal materials out of the garage!
April 3, 2009
Met today with the block supplier and the block mason who will install block ends to our metal arch shell. We have high hopes for this new composite product that offers insulating value to the end walls. We especially like the rustic textures of the block to be enjoyed from both inside and out.
April 16, 2009
Received final septic plans by mail, giving us the confidence of having a viable septic solution although we'll keep it in our back pocket for now. Time to order some items we will need soon – like a garage door, entrance doors and an exhaust fan.
"where the blacktop ends"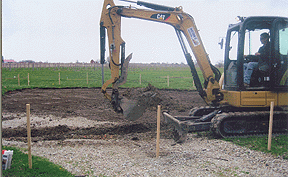 April 21, 2009
Big day! Officially broke ground by digging trenches for the footer today. Out of film, so I borrowed our neighbor's digital at the last minute to capture the event! Later this evening, we made a presentation to the Zoning Board seeking a variance to retain our stone parking area rather than installing a paved surface. We used the lyrics to a Keith Urban song, "where the blacktop ends," to help explain our sentimentality. They were gracious in extending us this favor and we are thrilled to keep this rural element in the atmosphere we are creating for the winery!
April 27, 2009
A hint of pastel color appears across the vineyard as the vines begin to leaf out. The popping Concord buds are tinged in pink and LaCrescents are bright green. Diligent fungicide sprays will begin now that foliage is present. A second pass of pruning will take the previously shortened canes down to a one-bud spur.
May 8, 2009
We received lots of rain into our open trenches that needed to be pumped. The footers and "underground beams" were poured on May 4th with the use of a pumper truck despite a little dampness on the south side. Sill beams were formed with 2x10s this week and poured today. The crew worked hard moving wheel barrow loads to the east wall.
May 9, 2009
Due to the profile of the metal sill plates, the anchor bolts could not be wet set in the concrete beams. Brian and I will undertake the unbudgeted tasks of drilling holes, installing bolts and setting the sill plates before the walls can be erected.
May 18, 2009
We had frost last night. The air drainage kept it low to the ground and did not appear to damage any of the mature vine's developing shoots. Our 1-year olds (planted last year) are still close to the ground and may be affected.
May 25, 2009
LaCrescent vines are blooming! What looks like clusters of baby grapes are only tiny closed flowers that open for pollination. The petals and unpollinated portions fall later like snowflakes on the bare ground. Since the LaCrescent vines bloomed first, this tells me that I should prune them first next year as they seem to progress faster than the Concords.
June 2, 2009
All pruning was finished today including the 1-year-olds. Normally they would be trimmed to one low bud in hopes of it pushing to the top wire that season. I decided to hold them back another year to allow their base to thicken up. Three varieties of new vines were all in this situation though the Nortons are somewhat stronger. I retained 4 to 6 of the lower buds allowing them to create low bushes again this year and gain some vigor.
June 4, 2009
The anchor bolts and plates are all in place and look amazingly nice. One course of blocks has been installed across the end wall and pea gravel was brought in to create our work-in-progress floor. Today an attempt was made at raising the steel arches. It became quickly clear that this is a job for a large and experienced crew. We are shocked that the manufacturer led us to believe it was a do-it-yourself project!
"one set of footprints"
June 17, 2009
The steel walls are up! No crew was available having experience with this brand of material, but a crew was found by our block mason that had the right equipment and enough enthusiasm to get the job done! Their first day at work was June 8th. Later that same evening our friend James passed away. Do you have times in your life when two very important and unrelated events insist on occupying the same day on your calendar? This past week truly tested my limits with trying to QC the building and handle our friend's final matters. It was one of those times when there was only one set of footprints in the sand.
June 30, 2009
The black raspberries began to ripen on the 20th with the robust canes promising a good year. I have picked 4 times over the last 10 days and gathered a freezer full of fabulous berries. They make nice additions to fruit salads and rich gritty cobblers! Of course the lucky ones get blended with grape wine!
July 3, 2009
Cluster thinning took several weeks for Concords and today concluded the LaCrescents. Reducing the number of forming grape clusters is especially important for the LaCrescents this year since their arms are young and not able to hold much weight. The Concords could have been left to produce a bigger harvest but with no alcohol permit in sight we need to limit our wine production.
July 7, 2009
Received approval of our signage today. We had hoped to be open this fall but won't have the required elements in place by then. Since our sign permit was expiring we decided to install the sign at the end of the driveway anyway and used the words "coming soon" in place of the store hours. This will build some awareness in the community and keep us from having to pay the permit fee over again.
July 9, 2009
A stretch of dry weather requires a watering of the plume grass we temporarily moved from our building site. Our youngest vines enjoy a human-assisted drink of water as well. I hate to spray when things are possibly heat stressed but the Japanese beetles are having their yearly family reunion.
July 18, 2009
Speaking of family reunions, we hosted the Harger side of the family today with 33 in attendance. Blessed with a freakishly cool July day, we enjoyed catching up with the family, playing cards and eating some of the best pitch-in food in the whole world! Our construction site wasn't pretty but provided some local color. Thanks Donna Lu for organizing a fun time.
July 26, 2009
It has been determined that five young Norton vines have not survived so we transplanted the same number that had coincidently been living in the nursery as extras. Not the best time to transplant as they will have to be kept watered through the heat. They should catch up with the others next spring if they can get settled this season.
July 29, 2009
This evening was the annual "Taste of Indiana" banquet held at the State Fairgrounds. It's an event that promotes all types of Indiana food producers as well as Indiana wineries. Endless samplings of meats, cheeses, fruits, veggies and wine can keep you busy for hours. The event also reveals results from the year's International Indy Wine Competition. We were pleased to learn both of our entries medaled. A dry Concord from 2007, titled Long Hot Summer, won our first silver and our sweet Brambleberry took a bronze.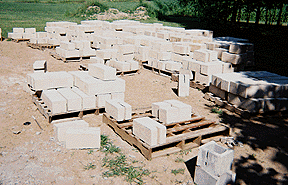 July 30, 2009
Progress continues on the building after delivery of blocks on the 10th. We are pleased with the rustic texture of the materials and the warm creamy color, hoping it will add some charm to our steely structure. Custom-crafted I-beams are being made for lintels.
August 6, 2009
Time to remove suckers from the vines where they may appear. Large shoots from the bases of Concords confirm the vines have lots of unused vigor and are capable of more production than they are pruned for. Some lower buds on LaCrescent trunks try to coax the vinedresser towards a fan arrangement to which she says "no" – snip, snip!
August 11, 2009
We've been witnessing large clouds of bees moving like a slow tornado from the back to the front of the property. They seem to travel back and forth between two places. There is a hive of bees massed on the ground just southeast of the new building. Brian discovered them when he cleaned out the mower blades and just about put his head in the bundle of bees. A storm on August 4th blew several limbs down and there is a large limb in the front yard that also has some swarming bees. We deduce that their nest was in or near this break and that now they are just confused.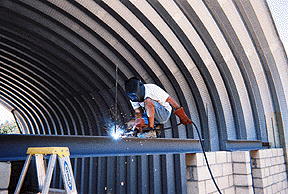 August 13, 2009
Received our lintels today and they were put in place by the block crew. The required vertical rebar in the wall system has been a big challenge. A friend helped greatly with some timely tack welding. Hurray for Steve!
August 15, 2009
We contacted an enthusiastic beekeeper who brought a box as a new home for the hive. He estimated about 2000 bees in the mound on the ground. He was able to spot the queen but the rest seem to be all workers – no scouts or drones. The box was placed upside down over the group. It's amazing how close we were to the bees. They truly had their own agenda and couldn't care less about us watching them.
August 17, 2009
Bees seem to be entering and exiting the box easily through the blades of grass along the bottom opening. There is a log in the front yard that still was attracting many bees, so we carried it, bees and all, and placed it near the new hive box. The bees slowly but surely migrated from the log to the box.
August 21, 2009
The beekeeper came back for his box today. We had moved 3 "logfulls" of bees to the box and felt pretty good about getting as many back with their family as possible. The bees from the ground had moved to a vertical wall of the box but had not gathered any pollen for food like the beekeeper hoped. He was positive about merging them with another small group over time to create a strong-numbered hive. We are thankful for his help and wish them all the best!
August 22, 2009
The LaCrescent grapes seemed to make a quick jump to ripeness (27 Brix) so we scrambled a team of harvesters to gather our first crop from this group of vines. Half of the LaCrescent vineyard is 4 years old. The other half is only in its third season. We noticed surprisingly little difference in the two sections as we gathered long suntanned clusters all across the rows. Grapes on lower branches receiving less direct sun stayed to the green side on their skins but were eventually decided to be just as ripe. Much fruit was left behind as darkness and tank capacity approached. This was also our first experience with pressing grapes. Using the same crusher as in the past, we added the processes of pressing and composting of skins to the day's chores. The crushpad crew did an excellent job of implementing these changes. Big thanks to all the faithful helpers who shared their time and efforts with us
August 29, 2009
Class Reunion of NHS. How great it was to see all those familiar faces! Even found some fellow grape growers and alcohol producers in the room. Noblesville has changed drastically since high school but I am thankful for the small town atmosphere we had growing up.
September 5, 2009
Concords were harvested today. We picked at only 14 Brix to test some advice in avoiding grassy flavors in this variety. Prior harvests were at 21 and 18. This batch will require a substantial sugar addition to reach proper alcohol level. Lots of good help showed up again! Our moms provided a nice lunch for the hard-working crew.
September 25, 2009
You know you're having a stretch of dry weather when you bother to write down "1/10th" on the calendar noting the day's allotment of rain. (6/10″ Sun; 1/10″ Thurs; 6/10″ Fri.) We've kept the youngest vines watered during this time. There are lots of holes in that area of the vineyard where coyotes dig for mice. An ill-placed mouse hole can rob a vine from a good soaking. I'm not sure what is worse – the mice or the coyotes.
September 28, 2009
Working down our "To Do" list, it's time to work on the driveway expansion. We rented a sod cutter this weekend to remove the grass and several inches of soil from the pull-off area along the drive. We also removed the grass from the center of the loop near the garage that will become the parking area. Several prompt deliveries of stone finished the job up neatly.
October 1, 2009
This evening I had dinner with a friend and former co-worker. She and her family hailed from France and made their abode here seven years, sharing their wine enthusiasm with us. Soon they are returning to Europe and we talked of someday visiting over there! Maryline and Yves, we wish you and your family all the best! Au revoir – 'til we meet again!
October 17, 2009
There's nothing like a hard deadline to force some things done and setting a date for a party is pretty motivating. In the last few weeks we've done site clean-up, installed new fence, and bottled some odd batches of test wine in preparation for having a few friends over. The evening was shockingly cold but we still enjoyed a great turnout. We appreciated the festive decorating of our tent provided by Jim and Debbie. They also got stuck with some of the cleanup!
October 23, 2009
Do the rain clouds know when we have an open trench? We received 2″ of rain right after our electrician began his part of the project. An electric panel inside the building will make future work much easier.
November 2, 2009
The turning leaves in the vineyard tell us their year is over. We need to be wrapping up the exterior of our building before the good weather is completely gone. The photo below shows the completed block walls. Today we installed front doors in the winery.
November 14, 2009
Bottling Concord 2008. The rule for our bottling parties requires all volunteers to "continually sample" the wine for quality control. We may have to reconsider this policy after someone fell and got a few stitches in their head. I won't name any names. Okay, it was Brian. Thanks to all who helped with the day's events!
November 24, 2009
The two entrance doors, front and back, look great with their weather-gray paint and recycled wood trim. Rough-sawn 2 x 8 boards were ordered from a sawmill and add a deep rustic frame. We used a sandy chink mix from our log home supplier as caulk between the wood trim and the block wall.
"lots of sleepy buds"
December 1, 2009
Walked through the vineyard these past few days tying up sagging cordons that could be damaged by winter ice and winds. Happy to see lots of sleepy buds waiting for next spring!
December 7, 2009
We said we wanted doors on before the snow flies. Today was our first snow of the season and just two days ago we had covered the garage door opening with plywood. So I feel good that things are closed up but disappointed that our garage door issue is not resolved. We had planned to use a vertical lift for the door to avoid tracks overhead in our processing area. For many reasons we changed this plan and returned the door we had purchased. We hope now to have doors that swing out but they didn't materialized in time for winter. All in all, we are very pleased with the progress this year and thankful for the "roadblocks" that have helped us make better decisions. We look forward to what this next year holds!