---

Let us host your gathering in a beautiful setting, indoors or outdoors, arranged especially for your group! Depending on the setting you choose, the winery facility, patio and grounds can accommodate up to 60 guests. Private parties are offered 6 days of the week, Sunday through Friday. Please call or text to 317-773-7942 for availability.

You may use the following link for a detailed planning guide to help you consider the various party settings and food options. We are happy to walk you through the many options over the phone or during a private visit.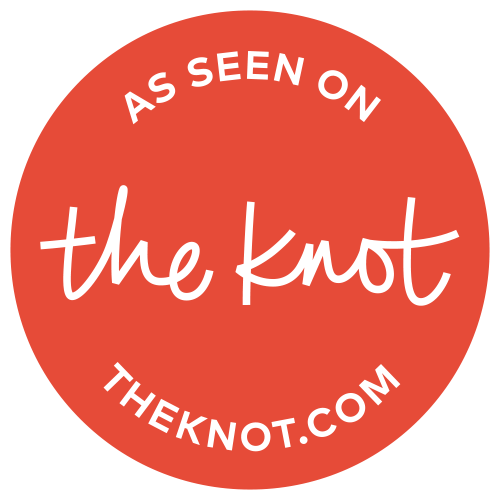 Choose Your Setting
The "Meet & Mingle" setting with glass-top tables provides informal seating where the guests are free to move around and is well-suited for club meetings and business outings. Outdoors, the crushed limestone patio is framed by the butterfly garden with lots of color from spring through fall. Indoors, this setting offers exclusive use of the tasting room for 20 people seated and up to 40 people total.
Canopies provide structure and shade for outdoor settings and are included at no extra charge. Add food options provided by the winery to any setting including full buffet meals, nibbler trays, and cupcakes.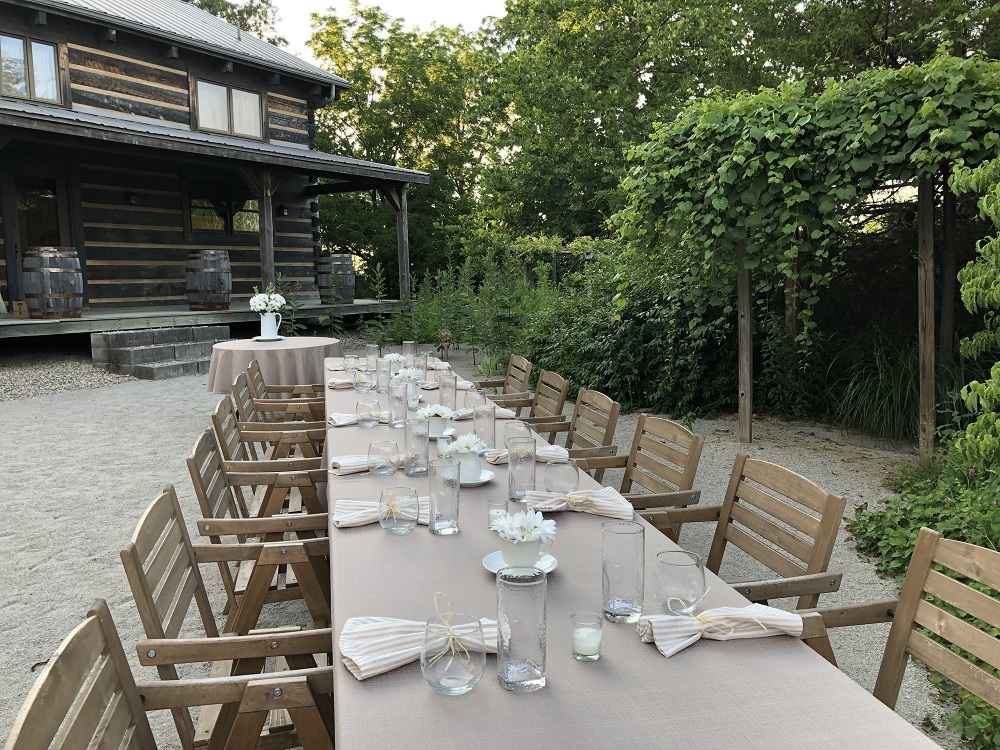 The "Rustic Elegance" setting features cloth table coverings, preset cloth napkins and glassware. A canopy will be used at midday but the log cabin casts a long shadow as evening approaches. When no canopy is necessary, the sky opens up to meet the view of the vineyard from the patio. Indoors or out, this setting is a favorite choice for bridal showers and rehearsal dinners.

Our "Cozy Campfire" setting is perfect for birthday parties and gatherings of friends. A fire warms the soul and centers the conversation. The fire can be built in the open lawn area, in a raised bin on the patio, or in a recessed pit nestled in the trees. Straw bales make up some of the casual seating. Of course you need something to drink so check out our beverage options. You may add a wine tasting, wine bar, or sparkler beverage to any party setting. The handy S'mores kit is one of the many food options.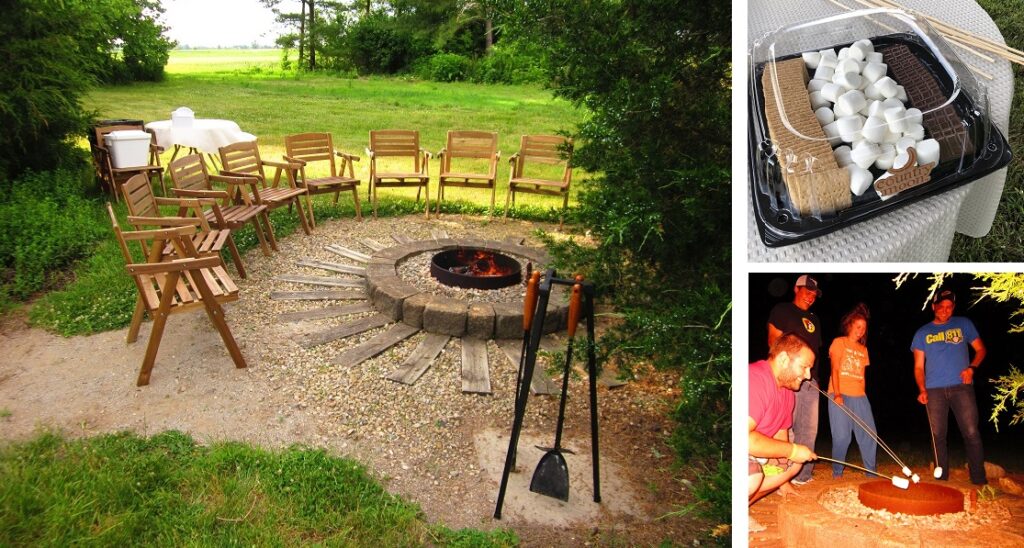 The "Table for Two" setting is a unique opportunity to create an intimate dining experience for a special occasion. This setting is often a surprise for one of the guests! We have some tried-and-true locations outdoors or you can scout ahead to find just the perfect spot. Indoors you will have exclusive use of the tasting room for your dimly-lit and specially-set table.
We are happy to pull together the finishing touches so you can relax and enjoy…

…or you can bring your own themes and colors with the option to set up early. Our staff is always present to serve and assist.
A variety of table sizes, surfaces and arrangements are available to create a pleasing neutral backdrop for your gathering. Add a featured cake table ($40) or request auxiliary tables to suit your activities. Small floral centerpieces (total of $20 white, $30 specific color) are also a simple addition.
Pricing
Descriptions
The winery can schedule a private party setting with times offered anytime between 8am-10pm, 6 days a week, Sunday-Friday. (Saturdays are used for walk-in customers.) Food and beverages are NOT included in the setting cost.
All chairs and tables are sanitized and in place as described below prior to the party start time.
Every setting includes food tables sized appropriately for any food selections.
Canopies will be utilized as needed.
All setting surfaces are handicap-accessible including an indoor accessible restroom. Outdoor settings with 40 or more people include a portable toilet.
Settings are priced for a 2-hour usage. Please request extra time ahead ($50/hour) if more than 2 hours are needed.
Differing amenities are described below:
The Meet & Mingle setting intends to create a casual free-flowing crowd on their feet by providing a reduced number of chairs compared to the estimated number of guests. Guest tables are left uncovered for periodic sanitizing. Standing drink tables may be utilized. This setting is appropriate for a come-and-go format or business social. Any food provider options apply for light hors d'oeuvres, snacks or cake rather than a meal. All tableware must be disposable.
Rustic Elegance is a seated banquet with cloth table coverings. Places are preset with cloth napkin, napkin flourish, water glass and stemless wine glass. Other tableware should be made available at the food tables by the food provider. Any food provider options apply. Place cards or table assignments are recommended and facilitated. This setting is nice for a bridal shower brunch or rehearsal dinner.
A Cozy Campfire setting can feature a fire in a recessed pit, a raised bin or large open lawn area. Firewood is provided along with fire utensils and casual seating of straw bales and/or wooden chairs. Guests are welcome to bring their own beach chairs and blankets. Any food provider options apply. All tableware must be disposable.
The Table for 2 setting includes 2 chairs at an intimate table with a cloth covering, preset with cloth napkin, napkin flourish, water glass and stemless wine glass. Any food provider options apply for this setting except for buffet.
---
The Fine Print: Sales tax of 7% will be added to the service portion of your party. An additional 1% Food & Beverage Tax (total of 8%) will be added to the food portion as well as any beverage purchases. Reservations are held with an approved party hosting form and a deposit may be required. Groups cancelling with less than 48 hours notice may forfeit the deposit and/or be charged for incurred expenses. Full payment is expected for a good-faith effort regardless of weather or other circumstances beyond the winery's control. Groups are welcome to use their setting for any social or business gathering with elements as described. Groups desiring other elements may make special requests subject to approval. Please call 317-773-7942 for more information.
Technical Notes: The link below is repeated from the top of this page with an additional download button. This files requires a PDF reader.
COVID-19 Statement: As long as this paragraph displays, restrictions may apply to hosted events in an effort to protect your safety and abide by any current state mandates. Any active restrictions will be discussed prior to booking or announced promptly if mandates change. If necessary, we reserve the right to retract any offers, reservations or event contracts should the health crisis worsen.
---
PARTY HOSTING: Setting Options | Food Options | Beverage Options