Vineyard Journal Archives
January 1, 2010
A locally respected folk-scientist, Clara Hoover from nearby Sheridan, has made her prediction of a three-blizzard winter. Having used persimmons in the past to predict the weather, this year's hunch is based on 13 fogs she charted in August last year, inspiring a specific call for 13 snows. Also the high incidence of black woolly worms bumps the severity of three of those snows to blizzards. In this picture, large frosty flakes cling to our grapevines not from a snowfall but after a cold morning fog.
January 17, 2010
A new crescent moon hanging in the dark blue horizon reminds me of our logo and causes me to ponder this year's agenda. January is a time for goal setting. It's also a time for organizing – maybe made necessary by putting away holiday decor, finding room for newly gifted items or a result of that closed-up cabin fever feeling. For me January is pleasantly quiet and sedentary – a time for reflection. The tasks of catching up on the Vineyard Journal and uploading new photos to the website all involve reflection, organizing and goal setting. Today's reflective conclusion is that I am attracted to grape growing and winemaking not because it's anything new but because it is so old!
"Stand by the ways and see and ask for the ancient paths, where the good way is, and walk in it; and you shall find rest for your souls." — Jeremiah 6:16
January 21, 2010
Just finished up three days of Hort Congress for this year. We took even greater advantage of this event by splitting up to attend not just Wine Grape sessions but also some from the Farmers Market and Organics associations. We enjoyed getting acquainted with the couple starting the brand new Wolf Creek Wines in Columbus, Indiana.

January 23, 2010
Grabbing this gift of a warm weekend, we transferred the amateur wine of 2009. Our stainless steel tanks fare well in the unheated garage. We pumped both LaCrescent and Concord wine off their yeasty sediments into clean tanks. Cold temps aided the clearing process. On the very coldest nights, we do aim a space heater at the narrow valve areas of the tanks.
February 5, 2010
Just saw the bare ground for the first time in weeks, but the clouds today delivered another blanket of snow – a pretty thick blanket of over 5 inches. A little more expected tomorrow.
February 9, 2010
Still more snow today with very cold temperatures sustained so we have a total of about 10 inches. Brian works hard to keep the driveway plowed. Our old dependable tractor does the job for now. He sees a snow blower in his future for when we need to make things presentable to the public everyday. A good excuse to buy a new tool.
February 15, 2010
Seventy-five strawberry plants were ordered today for shipment in late spring. We chose a variety called "Surecrop," a June-bearer, that is favored for its disease resistance and vigorous growth habits. Looking forward to selling strawberries as fresh fruit or becoming part of the tasting experience at the winery's sampling bar. Strawberry wine is tasty but its color is unstable so it won't likely play a big part in our fruit wine lineup.
"You may already be a winner!"
February 26, 2010
Here I sit waiting for the Prize Patrol van to come down my snowy driveway! Today the latest Publisher's Clearing House winner will be announced and I'm sure its me! The words "You may already be a winner!" ring in my ears. But alas, participation in their daily online entry program has only increased my junk e-mail. In reality, even 10 million dollars would not solve my most pressing issues. It cannot create more space in my yard for the septic field. It can't save my trees. Money can't assure that our plans for electric radiant heat in the floor will be installed correctly or work properly. Money would however help us start over someplace else but that's not at all what we want. So I will give up on the van, the balloons and the big check. It's hard to see today, but we must already have everything we need.
March 4, 2010
Pruning was started today. It may be a couple of weeks late, but the thermometer only peeked above 40 one day in February. I've learned that below 40 degrees my fingers and toes will only last about 30 minutes. Handwarmers inside each hunter's mitten will allow me a good 4-hour day. LaCrescent vines are first on the list as they seemed to bloom earlier last year. There is still a 20% snow cover today.
March 9, 2010
Six rows of LaCrescent vines are pruned. It was 61 degrees today. Very pleasant. If feels good to be back in the vineyard – like a fish thrown back in the water. My hands and wrists feel fine, in fact more comfortable than those winter days spent on the computer! Waterproofed my work boots again and hope they can last through the year.
March 10, 2010
Not to offend anyone but … holy cow! Only 6 days into pruning and its already 72 degrees. I went from my hooded sweatshirt to a sun hat today, but it won't last. Snow persists in the deep drifted areas or where it stays shaded from the sun. The tips of the daffodil leaves can be seen pushing through the leaf mulch near our front door.
March 14, 2010
A strategy meeting today with the septic designer and the installer was sobering. It appears to be necessary to remove 3 mature trees from the proposed septic field. A plan for such will be drawn and sent to the state once again for their response. It's so hard to kill a tree just for my selfish purposes. They are so noble, individual and innocent.

"The heavens are the heavens of the Lord, but the earth He has given to the sons of men." — Psalm 115:16
March 16, 2010
Purdue's Wine Grape Action Team had their Spring Workshop today hosted at Brown County Winery in Nashville, Indiana. The focus was on bottling practices with a demonstration of automated equipment. Thanks to all for the hospitality and valuable exchange of ideas.
March 26, 2010
LaCrescent pruning is done. Taking a break today from a biting wind. Weather has been mild, mostly bobbing from 40s to 60s but last night we took a dip to 29. The same is projected for tonight. LaCrescent pruning calculations: 15 4-hour days equals 60 hours divided by 460 LaCrescent vines is an average of 8 minutes per vine. These vines are still young so the canes are fairly thin and short and don't require much untangling. The Concords will be a bigger challenge.
March 31, 2010
Started pruning Concord vines yesterday. It feels like summer at 75 degrees! We are digging holes for the arbors that will dress up the winery. The holes will be filled with concrete as foundations for the posts.
April 2, 2010
It's hot today – a crazy 82. Four seedless vines near the house were treated with lime sulfur. They have a persistent anthracnose problem, but this late dormant spray helps postpone its outbreak. A hard-core vinekeeper would pull these problematic vines out by the roots. I'm not there yet.
April 4, 2010
It's Easter and our yard is filled with wild flowers. Violets, Sweet William, Spring Beauty and Prairie Trillium – all so thick you hesitate to walk through the grass but it's the only way to truly appreciate the variety and detail of this special gift of spring.
April 6, 2010
Set a record high today of 83 degrees – over 20 degrees above normal! We really appreciate the new weather channels and radar available through regular broadcast television! Made some notes from Angela Buchman's stats for April, especially the average date for the last freeze being April 22nd. We know that grapevines will awake from dormancy when the days reach an average temperature of 50 degrees. Starting with the 72 degree day on March 10th, today is the 15th day where the day's average temperature was above 50. Like the hands on nature's clock, I saw buds open on the ends of mature canes just today.
April 9, 2010
Frost last night, low of 34. A staggering drop from 83 degrees two days ago and its still too early to hope it's the last frost. But winter is officially behind us and its time to evaluate Clara Hoover's prediction mentioned in this blog on January 1st. She called for 13 snows and 3 blizzards. According to the daily stats for Indianapolis on the NOAA website, we had 24 measurable snowfalls with 13 of those dropping 1/2 inch or more. Six storms featured substantial snow plus winds over 25 mph. Three of these storms had snow in excess of 4 inches and two of those had wind gusts of 31 mph – just short of the 35 mph defined as a blizzard. Not too bad, Clara! Keep watching those woolly worms.
April 11, 2010
Weed management begins around our mature vines with a spray of Makaze/Chateau mix. This is a good spring burn down and provides pre-emergent protection for several months.
April 18, 2010
Concord pruning is done. Nineteen 4-hour days equals 75 man hours divided by 200 vines gives an average of 22 minutes per Concord vine – almost three times longer per vine than LaCrescent. A freeze warning was issued for last night but they're reporting only 34. Still a cruel nip at our tender leaves but no damage assessed at this time
April 19, 2010
During this stretch of dry weather I am mowing up dandelion heads with the grass catcher/bagger to help manage their population. Chemicals normally used on dandelions are very harmful to grapevines. The mounds of flower clippings are covered with a tarp to heat up and sterilize the seeds. An unknown spray was applied adjacent to us on the east today. I parked my tractor to watch and the driver, waving at me, opted out of spraying the last strip closest to the property line.
April 20, 2010
This evening our county council met to hear a variance request from another startup winery and we felt compelled to be there. It was nice to meet Carrie and Brian Taylor and hear about their plans for Rain Song – situated 4 miles away from us. We tried to be encouraging but being a little beat down ourselves we vented that everything takes longer and costs more than one might think. Maybe it's helpful to hear that upfront or maybe not. We do heartily welcome kindred spirits to the area and believe our businesses will benefit each another!
April 21, 2010
Burned the third and last of the pruned clipping piles. Burning helps to destroy any disease residing on the old wood. Some distress seen on LaCrescent leaves, much worse on the east. Small dark spots are likely a bad reaction to an unknown combination of irritants.
April 22, 2010
We're still training main trunks on our three youngest varieties. Trimmed Nortons to 4 buds with bamboo stakes. Each young vine was given 1 gallon of water today.
April 30, 2010
Received some much needed rain in the last several days – over an inch total. A frost on the morning of the 28th was harmful to the youngest vines since they are still near the ground. Delaying pruning further does not help since they are fully budded. Proceeding with same training treatments on Swenson Red and Prairie Star vines as was done on the Nortons. This past week has been another roller coaster of temperatures with a low of 32 two days ago and a high of 80 today. A little rain today. The month of April is 1/2 inch below average in rainfall.
May 2, 2010
Weekends are good for working on the arbors. Eight posts are in place for the largest structure just off the winery entrance. Brian planted some pumpkins, cantaloupe and gourds just for fun to the south of the vineyard.
May 5, 2010
Carefully prepared several water samples for IDEM approval of our well over the last two days with the plan of driving them to the state lab within the prescribed time parameters. Great idea except that today is election day and they were closed. I had voted even! What was I thinking? Wasted kits, wasted time – it's so hard to keep all things in mind.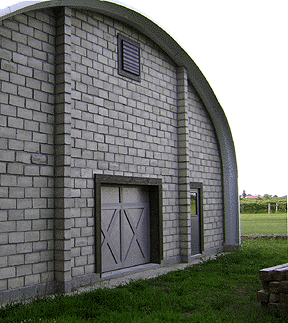 May 17, 2010
Still behind in rain but receiving about 1/2 inch every week this month. This is likely enough to remove our fungicide protection so I am continuing with rotating products for a faithful weekly spray
May 22, 2010
We finished the rough-sawn trim on the garage door today. If you remember, our garage door opening was only plywood last year for lack of a solution for a door. We are thankful to have found someone who was comfortable with the vertical lift idea. Thanks, John! You are our garage door angel.
May 25, 2010
Today we received final approval of our septic system from the state health department. YAAY! This has been in process for over two years and my friends and family are certainly sick of hearing about it. Not a fun subject or a sexy way to spend lots of money, but we are breathing a sigh of relief that this very important piece of the puzzle has finally emerged from the couch cushions and been fitted into place!
May 28, 2010
The full moon is riding low in the sky. Over an inch of rain yesterday. I have started cluster thinning in the LaCrescents because the young canes are really overburdened with blooms. This photo shows the fuzzy-looking clusters spilling over an end post. Brian has a Friday off so we should make good progress on the overhang for the winery's front entrance during this long holiday weekend.
June 1, 2010
A huge disappointment today as I headed out to resume my cluster thinning. All the LaCrescent blooms had fallen off. All of them. Not just the petals that normally shatter to the ground after pollination. I mean every little green bump that could become a grape is gone. That means no LaCrescent fruit this year. None. Looking at my disease diagnosis book I learn that high temperatures can interfere with pollination. We had sustained highs of 86 degrees or more for the last 10 days – an unrelenting heat at just the wrong time. There is also severe 2-4,D deformation but I think the extreme temperature is enough to explain the problem. I am shocked and sickened. Guess I'll proceed to the Concords which still appear fine.
June 5, 2010
Planted strawberry plants into the bed we had prepared last fall. It was a hot day at 88 degrees and not ideal for introducing new plants. I had specified a late delivery, forgetting how hot it can be in early June. We'll have to keep them watered well. Also mailed our TTB application today, finally having the confidence that this thing is actually doable. I have been literally shuffling through that stack of papers for years and it feels great to send it off!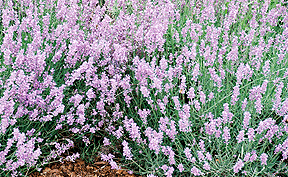 June 10, 2010
Enjoying an abundant harvest of black raspberries from our wild woodland bushes. Picked two quarts on Monday and a little more again today (Thursday). The herb garden around the house patio is in its peak. English Lavender is having a great year and should be harvested now but its so hard to cut off the beautiful flower stems. I will have to enjoy them for a few more days.
June 15, 2010
A cool drink on a shaded porch whisked away the oppression of over 25 days of extreme heat. The magic potion was a glass of iced lavender and mint tea softly sweetened with honey. The three flavors were individual yet harmonized. The porch was part of the charming store at Willowfield Lavender Farm in Mooresville, Indiana. Cooling views of purple were everywhere bathing us in their humble beauty. Perfect days are perhaps too much to hope for, but perfect moments, if we will catch them, are ours forever. Thanks, Sandra, for sharing this special place with me! http://www.willowfieldlavender.com/
June 16, 2010
Japanese beetles have sprung from their muddy incubators. We've had rain each of the last five days. The beetles, changed from grubs, seem to crawl out of the ground and straight up my grapevine. They then find the prettiest leaf high up in the sunshine and start chomping.
June 23, 2010
A windy storm yesterday resulted in 3-1/4 inches of rain and that much water at once will tend to pond up between the vineyard and the winery. A drain tile runs diagonally across our property and carries the water both below and above ground toward Sand Creek. One wire is broken in the Concords likely from the extra wind stress. The craziest discovery was a group of fish in the lawn – 10 or so no bigger than 3 inches long. They had been trapped in a low spot that did not drain after the ponding. Sadly only one was still alive when we found them but he made a successful trip via Tupperware to the creek. It's a real puzzler where they came from.
June 29, 2010
Had a joint meeting today with our septic installer and plumbing contractor. Unknown to me, they were old friends and the three of us has a fun time hashing out some of the strange challenges presented in our project. Really glad to finally be working on this phase. June gave us 9.7 inches of rain which is 5 inches above the average. This wetness has delayed any serious digging this month.
"reaching through the prickly maze
– standing on one foot"
July 2, 2010
The black raspberry bushes have served me well this year yielding a total of 22 quarts over 11 pickings. The berry bushes also taught me a few lessons during the hours we spent together. A small plastic cup was the container that I added berries to one by one. When it became close to full it was dumped into a large pan set outside the briars. This lesson was learned with the accidental dropping of the large pan while picking. It's equivalent to "not having all your eggs in one basket." Or it reminds me of when the computer freezes up. "I just lost 2 hours of work," we cry. In reality, the failure to save a document for 2 hours is the cause of the crash. I also pondered long the metaphor of reaching through the prickly maze – standing on one foot in danger of falling face down – and wondering whether the risk was worth it. The answer is still yes.
July 7, 2010
The patio has a second peak when the bee balm and Rose of Sharon come in bloom. Hummingbirds are abandoning the feeder in favor of the natural sources of nectar. Our mama raccoon has another littler of kits, this year in the old oak tree that was storm damaged in 2009. We see the babies play outside of the hole in the early mornings and they are probably why the bird bath is consistently muddy.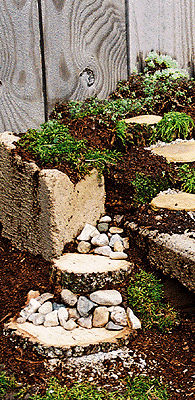 July 10, 2010
Up early on a muggy Saturday to take advantage of the morning shade in the woodland garden. Several plantings need to be moved elsewhere to avoid the excavating equipment for the septic field. Two dozen iris clusters and 4 oak saplings were moved to a safer place. I have said good bye to the trees slated for removal. A miniature moss garden was inspired by moss harvested from the shadiest spot of the yard that won't be shady for much longer. This little project helps me feel in control of something while big things fall around me.
July 22, 2010
Beginning on the 12th our septic installers were faithful making daily progress. Twice a downpour of rain came right at the end of a hard day. Special care was taken working near the new strawberry bed. As our system requirement list had grown over the last two years, we truly barely fit all the elements into the suitable soils available on the property. The state-of-the-art digesting tank, irrigation tubing and electronic control panel makes this system an engineering marvel. They say it's the first commercial application for this equipment in the county. So much hard work but when the grass grows back no one will know its even there! We sacrificed 2 mature trees and 3 young ones for the sake of the goal. We are thankful to Brian and his crew for their clean and conscientious work. A big thanks also to Scott for finding the final solution! The best news is one tree on the list for removal was spared, the healthiest of the beautiful maples.
July 27, 2010
As I could over the last 8 weeks, I've been pulling suckers from the LaCrescent vines. They especially like to sprout new shoots from the base of the trunk which are unwanted and can drain the already trained arms of nutrition. Even knowing we won't get a harvest from these vines this year, they still need attention to stay balanced in how they are growing. We're a little behind in rain but still surviving on June's surplus.
July 31, 2010
Concluding with the installment of the third and final arbor, this week contained a wide variety of experiences – both pleasant and unpleasant.
Three beautiful deer in the vineyard.
Another broken wire that required fixing.
Moving dried lavender to jars.
A new pair of prescription sunglasses.
A grueling list of errands at the court house.
August 2, 2010
Severe leaf gall has developed in the LaCrescents. These fighters are really taking it on the chin this year. It's hard to know for sure what type of insect has caused this problem. Unfortunately, the solution would have been to spray more pesticide earlier when they were already showing signs of stress in the spring. I hope they will be able to store enough energy to survive the winter and give it another try next year!
August 12, 2010
Concord suckers were very few this year. I feel this a good sign that the arms (or cordons) have enough shoots to channel the vine's vigor. They are trained to a six-arm system where the new shoots arch toward the aisle. I did trim some canes that had runaway horizontally over to the next vine or sometimes further.
August 18, 2010
This is a red-letter day in the history of the winery with the receipt of our TTB permit in the mail. This is the federal permit to make wine and was issued on the 13th, only 9 weeks after our application. Once again, the most intimidating of tasks ended up being not so terrible. Our state application will be started tomorrow and shouldn't take too long. We have placed an order for a crusher and a press in anticipation of this year's harvest!
August 21, 2010
This little story says so much I just have to write it down. A local preschool has a practice of giving each child a paper fish at the end of each day. The color of the fish indicates their behavior. My great-nephew was asked one day to help pick up toys. He turned his back to the requesting teacher and proceeded towards another play area. Following him, the teacher asserted that he help pick up the toys. After a big sigh he dropped his chin, stuck up his little hand and said, "Just give me the yellow fish."
August 31, 2010
The plumbers finished all their below-slab work on the 23rd and yesterday we passed our plumbing inspection. Now we can work on creating the trenches in the pea gravel that will create thickened areas of the slab to support walls. Leveling the pea gravel in anticipation of finished grade is an endless task. At some point we have to say that's good enough! Rolls of rigid foam insulation are on order for installing between the gravel and the poured concrete. This month goes down as the driest August on record.
September 1, 2010
The new crusher is here! The new crusher is here! We're somebody now! Almost like seeing your name in the phone book for the first time, owning your own grape crusher machine makes you feel official. So shiny…my precious. Also good news – the county health department has approved our fixture plan. Still more – the waterline was laid to the winery today. The dream is quickly becoming more of a reality. What a great day!
September 8, 2010
With all the below-slab insulation and vapor barriers in place, the two concrete teams came today. I counted 11 people total between the pumper truck crew and the concrete finishers. This doesn't include the mixer truck drivers involved. The job required a full effort from everyone and they all delivered. We are very pleased with our new solid floor and are shocked at how different the building seems now. For more details, see Construction Notes.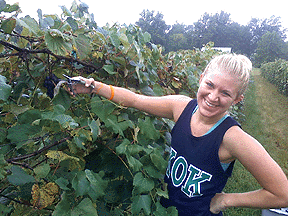 September 11, 2010
It was harvest day and for the first time we got some rain on the day we selected. But our dedicated crew hung in there, some picking in the rain, and others waiting it out and then working late into the evening. Our niece, Lauren, (photo right) flashed a bright smile as we neared the last row. Still without our state alcohol permit, we chose to press the red grapes creating a dark blush juice. This juice we will preserve at a cold temperature until we are licensed to ferment it to alcohol. If successful, it will become the first batch of wine we can sell as a commercial winery.
September 22, 2010
Eleven days later we can tell by the smell coming from the garage that our juice preservation experiment has failed. Dismantling our cold room, we removed the lid of the chilled tank to reveal a very active fermentation. We added some enzymes and nutrient at this point but no extra sugar. A "natural yeast" may create some challenges but we have no choice but to let nature take its course. The volume is still within the legal limits of amateur winemaking so the only thing at risk is our pride.
September 25, 2010
Got a delivery today from Susie "the grape pie lady." She and her husband picked a bucket of grapes a few weeks back and brought us a pie as payment. Wow! If you've never had grape pie, you are in for a real treat! Thanks, Susie, for the pie and the recipe!
September 30, 2010
Our county building permit expired today after 18 months. But the good news is also today we got the final sign off for occupancy of the building. Without a deadline would we do anything? The occupancy permit will allow us to move some new and large equipment out of the garage that was getting a little cramped. We'll also move some supplies from our wine kitchen in the basement.
October 3, 2010
In trying to address the constant question of when we'll be open, my answer always contains the word "permit." When someone said recently "I thought you had that", it occurred to me that it must sound to everyone else like we're waiting on the same permit over and over. Few people would be familiar with this somewhat rare business and its requirements or the certain order in which the permits must be sought. So I sat down today and made a list of the permits, or other official documents, required (for us) to open a winery and from which department and branch of government they are granted. I guessed it would be about 8 items long. It was 24! Click here if you don't believe me.
October 12, 2010
A migrating group of White-Throated Sparrows came through today. The woods has been so void of birds lately that they caught my attention easily. Their song was also loud and strange to me. In this group there were some with distinctive black-and-white striped heads. Others' heads were tan and brown. All had tan bodies with normal sparrow markings on their wings. A perfectly smooth even-colored breast gave them a cleanness and elegance. I supposed the black-headed ones were males but the book says there are two forms within the species. These were all traveling together – about 12 total. They found plenty of seeds drying in the patio herbs and enjoyed the weedy fox tails. There was water in the bath but they did not use it. Staying about 30 minutes, I was thankful for the visit. Their song is described as "sweet sweet Canada, Canada, Canada." Perhaps they're reminiscing of the summer up north. Soon they'll be thinking "sweet Florida."
October 13, 2010
Attended "Day Camp for Small Scale Commercial Winemaking" today starting first at Purdue's Food Science building. We enjoyed privileged insights from experienced wineries via Jeanette's "If I'd known then…" presentation. A hearty sandwich lunch was accompanied by numerous samples of wine brought by attendees. The wine lab has some new crushing and pressing equipment since my last visit and it was demonstrated by Christian with great enthusiasm. A trip through Jill's testing lab was very informative. Wrapping up in the vineyard at Purdue's Meigs Farm, we wandered the various types of vines and sampled secondary fruit just ripened. What a treat! The group's questions to Bruce persisted through a steady rain, which no one seemed to mind after such a dry summer and fall. Thanks to everyone for another great workshop!
October 14, 2010
The leaves on the trees are turning to golds and reds. The dryness causes some to wither and drop early but I am delighted to see the familiar colors emerging once again. Especially thankful to have our maple still standing having missed the bulldozer's path. It is truly the brightest star in the woodland. A little darker yellow though this year than normal, almost peach. Perhaps it is mourning its twin removed from very nearby.
October 16, 2010
More crazy temperature swings here at the end of the season. Monday had a high of 88 degrees. Last night, 5 days later we had frost. Caulked the saw cuts in the floor today after waiting the proper amount of time for curing of the concrete.
October 25, 2010
The leaves in the vineyard have turned, fallen off and blown away. They are forecasting 50 mph winds so we checked ties today to make sure the arms were secure. Still some broken wires but the wire should support the vine through the winter now that the fruit weight is off.
October 28, 2010
We mulched the new strawberry bed with straw this evening. Wondering just now why they are named "straw" berries. Perhaps this practice was part of their domestication. Expecting the first hard freeze at 30 degrees tonight. Average first freeze is the end of October so here we are!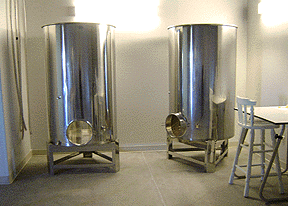 November 9, 2010
Great progress was made this week! Two very important inspections are behind us with the state excise officer here today and the county health department on the 4th. It feels so good to finally have everyone's blessing! We are hoping to find some juice available and make a little wine in the new building over the winter. But wait. Wait. We're still a long way from being "open" so you'll have to stay tuned to see how the inventory progresses.
November 10, 2010
Got some snow this past week. With trimming the Rose of Sharon bush back today, it seems I'm running out of outdoor tasks. The switch from outside to inside routines has begun and always creates an identity crisis for me. Brenda Alexander, who writes for the Current in Noblesville, hit this home for me when she wrote the following: "…There are essentially two types of jobs in the world. The first requires that you bathe before you clock in; the second requires that you bathe after you clock out." I have to switch back and forth between those two identities depending on the weather.
December 20, 2010
As an early Christmas gift, the county surveyor's office sent a crew to do repair work on our legal drain. A section of the tile had collapsed at the east corner of our property. Today the damaged tile was replaced and a new vent was added near the property line. We are hoping to see improved performance by the tile in the future.
December 21, 2010
The first official day of winter is today at the Winter Solstice. Accompanying the event this year is a lunar eclipse and of course its necessary full moon. It would have been a fun event to plan a gathering around but the actual eclipse happened between 1 and 5 a.m. and then it was not visible due to snow in the atmosphere. Nonetheless, it's a fun thing to visualize in your mind's eye – the last full moon of 2010 turning gold for a few hours on the longest night of the year. And with that I will close out this installment of the Vineyard Journal. We wish you all a meaningful holiday and the happiest year so far in 2011.