Vineyard Journal Archives
January 6, 2011
Once again a new crescent moon hangs in the evening sky reminding us that it's time for our monthly business meeting. We chose this lunar stimulus to keep the members of the LLC in close communication regarding the business operations and goals. Of course, that's just my husband and myself but time does have a way of going by. Sitting down and taking notes of our conversation sometimes seems silly, but important decisions must be made with full presence of mind. A full plate of pasta and a full glass of wine helps too. This meeting will address the tank of new apple wine we produced last year shortly after our licenses were in place. We'll also discuss filing our first report with the Tax and Trade Bureau for 2010 production. If we'd waited a few days on making wine, we could have avoided this report but it is good practice!
January 10, 2011
Placing an order for juice today. After two previous harvests, it is ironic that by the time we were ready to make commercial wine, our own grapes were not available. Last year's journal tells the story of hoping to stall fermentation of the Concord juice, thinking our state permit was coming within days. Well, that permit didn't surface for weeks and the juice became "family-use" wine that we cannot legally sell. And the LaCrescent yield was ZERO due to 2,4-D damage at bloom. So in addition to the apple wine mentioned earlier, we will purchase some juice for a small batch of red wine to work with until this year's harvest comes in.
January 17, 2011
The persistent cold stiffened up the gravel driveway and gave today's delivery truck a solid footing. We received three barrels of juice from Walker's, a New York company that supplies much of the Midwest with grape nectar of all sorts. The very helpful driver showed us how to "steer" the barrels by tipping them up on the crease and rolling them hand over hand, right over the threshold of the building and near the tanks. This was far more effective than the barrel truck we recently purchased.
January 30, 2011
We saw three raccoons in a mating ritual today. Or maybe it was two and a jousted bystander. Anyway, I think we can expect another litter of kits in the dead limb of the ash tree again this spring.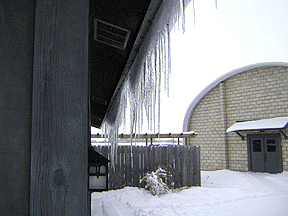 February 2, 2011
An ice storm has left a 1/2-inch layer of ice on everything. It is both beautiful and scary. The neighborhood opossum shamelessly eats at the bird feeder today. That container of seed is probably the only thing he can shake loose. He is also both beautiful and scary!
"reports of loud noises"
February 10, 2011
What the freak was THAT! At 5:30 am I sat straight up in bed, wide awake. It seemed I heard a loud boom and was even propelled to sit up! But then I wasn't sure because I had been sound asleep when it happened. Maybe someone just kicked in the front door…but yet the house was totally quiet. Brian wasn't here to confirm, so I turned on the television to the local news. Nothing unusual. Blah, blah about nothing for 10 minutes or more. As I begin to question my sanity, finally they say there are reports of loud noises in Noblesville and other outlying areas. Someone comes up with the explanation of a "frost quake."
When I Googled that term there was only 1 entry that came up. Really, it was only one! Wikipedia had the definition of a frost quake, or cryoseism, as the sudden cracking in soil or rock caused by the freezing of water when the ground is saturated. "Cryoseisms typically occur when temperatures rapidly decrease from above freezing to subzero in the first cold snap of spring. They usually occur between midnight and dawn during the coldest part of the night." These conditions were certainly true this morning. The internet presence for "frost quakes" grew exponentially throughout the day. I'm thankful for Wikipedia's pre-existing article or I would suspect a government cover-up of something!
February 13, 2011
A toast is made to love and long successful marriages as we celebrate Valentine's Day today with faithful friends. Each couple brought a bottle to the Champagne brunch for a total of 5 sparkling beverages: 1 from France, 3 from Italy, and the only "methode champenoise" came from California. They provided a wonderful variety of fruit, spice and mineral taste sensations to accompany the egg casserole, spinach puffs and other tidbits of sweet and savory.
February 16, 2011
Pruning started today in the Concords. I pushed the wheel barrow through the snow but by afternoon I was standing in several inches of water. The air was 65 degrees today (40 is normal) but BOY were my feet cold!
February 19, 2011
It's 53 degrees and we used this somewhat warm day to transfer our wines. Moving the wine off its sediment, or "racking" as the industry calls it, makes for a long day of careful cleaning and sanitizing. Later, a silver balloon we retrieved from the top of a crab apple tree says "You Rock." Thanks, little balloon! We needed a bit of encouragement.
February 20, 2011
The NASCAR season revs up in Daytona. We love an excuse to sit (sleep) in front of the television on a Sunday afternoon! We cheer for Kahne, Martin (when he's running) and whoever is in front of Johnson!
February 27, 2011
No pruning this past week. Too much rain and flooding. Three more inches of rain today!
March 3, 2011
Pruning resumed on Monday and 3 rows of Concord are done. I am focusing on the rows where wires broke last year. Once these vines are lightened up we can stretch new wires. Solar flares were forecast for today but I didn't know it until later. To think I was out there. Yikes!
March 4, 2011
Two inches of rain, then snow.
March 5, 2011
We had the rare treat of celebrating a 60th wedding anniversary. Happy Anniversary to Bill and Rose (Brian's parents.)
March 7, 2011
We finished repairing broken wires over 4 work sessions. Creating double top wires in the damaged areas. We replaced staples with screw-in eyelets.
March 8, 2011
Made some espresso brownies for Fat Tuesday. Looking forward to the day when I have a commercial kitchen and can share such things with winery visitors. Should we eat the whole pan before tomorrow?
March 10, 2011
Leaving the Concords in midstream, I move to the LaCrescent section of the vineyard since I remembered they seemed to progress faster last year.
March 11, 2011
Japan earthquake 9.0 and tsunami
March 16, 2011
Today was the spring test of the civil defense sirens used for tornado warnings. Standing in the vineyard I can hear 3 sirens since the addition of the fire station on Olio Road and St. Vincent's hospital south of I-69. They are only distinguished by starting a few seconds apart. The sound was both unpleasant and comforting as I pondered the ongoing disaster in Japan.
"The Lord on high is mightier than the noise of many waters, yea, than the mighty waves of the sea." – Psalm 93:4
March 19, 2011
At sundown the "super moon" rises to greet us, named for its current closeness to the earth. This week was a temperature roller coaster ride with a low of 28 on Tuesday, a high of 70 on Thursday and back down to 32 on Saturday. These extremes no longer take me by surprise. They are the normal muscle-stretching of spring as things awake from their winter nap. Doesn't it feel wonderful to stretch and then roll over for just a little more sleep!
March 24, 2011
This month has been very wet and blustery. Dodging the rain and storms, I'm able to prune about 4 days each week. I don't mind getting caught in a soft rain, at least until my hat soaks through. But to go out into a pouring rain seems crazy. Yesterday Noblesville had a suspected tornado they have since labeled a "strong downdraft." As we drove through the affected neighborhood to see many tarped roofs and broken-off trees, we were impressed by the quick action taken by the homeowners.
March 31, 2011
The month ends with a chilly week of snow flurries while the daffodils are opening. Vineyard status: 3 Concord rows, 6 LaCrescent rows pruned.
April 9, 2011
Buds begin to swell on the LaCrescent vines and the pink hyacinths come out to celebrate with me! After 5 hard days of pruning this week, I spent one rainy day tallying last year's spray records and one day shopping with gal pals.
"I hope he enjoyed it!"
April 13, 2011
All LaCrescent rows are done with their spring pruning! By this time I have seen enough little black bugs emerging from the loose vine bark that I reach for my Pocket Guide for Grape Integrated Pest Management. Flea beetles? I don't need no stinking flea beetles! Later that day I became convinced of their necessary eradication, as I watched one perform its speciality of hollowing away a perfect pillowy pink bud. The potentiality of that bud is like eating a 4-foot long shoot and two clusters of grapes! I hope he enjoyed it! He and his little friends will soon be dead.
April 15, 2011
With the LaCrescents done, I've turned my attention back to the Concords where I left off at three rows. I also realize it's time to get formula approvals from the federal authorities in order to finish our wines. We plan to add cinnamon to our apple wine which has been very successful in previous trial batches. Also a black raspberry syrup will be made from our frozen berries as an additive to a Concord wine base. All this needs the proper paperwork before we can actually perform it.
April 25, 2011
The rain and warm weather has created an explosion of mushrooms in the woods. Fried up some Morels and added them to the green beans at the family Easter smorgasbord. Picked 7 pounds of different mushrooms (I'll call them Snake Heads) after Brian took a sample to his office confirming their edibility with a mushroom fan. We gave these all away but enjoyed gathering up such an bountiful and unexpected crop.
April 30, 2011
It has rained on 11 of the last 15 days amounting to over 5 inches. Maintaining proper drainage takes some of my time during these situations. Our surface water should drain specifically in two swales on the property but fallen leaves and field corn stubble can plug these waterways. I head out with rubber boots, rake and shovel to keep things flowing.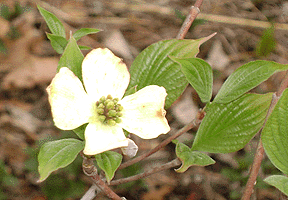 May 1, 2011
Our dogwood tree is blooming for the first time! This tree was part of a wildlife package we purchased from the state more than 20 years ago. It was slow to thrive and we moved this little sapling from the woods 5 years ago, planting it off our back patio. It soon received a bark gnawing by a rabbit during a heavy drifted snow and although this could have been the end it came back the next spring with a vengeance, sending out many new branches. With these first blooms, we celebrate it's triumph today!

In other news, Osama Bin Laden was killed.
May 7, 2011
Pruning is done for all mature vines. We had a frost on Wednesday with a low of 36. If this was our last frost then I can say my timing was good. With our small vineyard, we have the luxury of delaying pruning which helps gear back the vine's vigor hopefully past the last frost.
May 10, 2011
The hummingbirds have arrived with the first sighting two days ago! As I was having my breakfast, a hummingbird came to the window sticking his long beak in the corners of the frame as if to tell me this would be a good place for a feeder. Returning again and again, I reminded him that the feeder is on the other side of the house. (He should know that since they say the same birds return to the same place.) Upon closer observation I saw that he was collecting the spider webs and flying up in the tree. The bird book confirmed that spider webs are a component in their nest building. When he came back to the window for more webs, I apologized for my previous assumption, commended his priorities and wondered how often I judge the actions of others too quickly. Is it possible most people have good reasons for what they're doing even if it looks wrong to me?
May 21, 2011
Norton vines were pruned over the last three days. Planted in 2008, they and the Swenson Red vines should be producing this year but we have held them back for lack of thickness at their base. This year we are pruning most of them to one single bud which with any luck will become the trunk.
May 22, 2011
Wires were tightened today. This is a 2-person job and we could have used a third. The ratchets work well but it takes another set of eyes to make sure the wires are sliding as they should. They can get pinched in the post staples or within the vines themselves.
May 27, 2011
While pruning the Swenson Red vines today I saw a deer meander down the neighbor's south fence row. She felt safe along the tree line, watching me for a few seconds and then continuing on her mission to take a little nibble from their garden.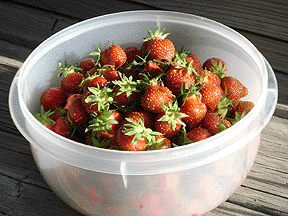 June 1, 2011
Memorial Day weekend was good for trellis building getting 35 posts installed. We used the auger on the tractor to dig the holes and then tamped them in by hand, keeping them straight along a string. The soil is nice to work in after receiving sensible rains for the last two weeks. Picked the first ripe strawberries today. They are June-bearers and right on time!
"Bless the LORD, O my soul, and forget not all his benefits…who satisfieth thy mouth with good things; so that thy youth is renewed like the eagle's. – Psalm 103: 1, 5
June 5, 2011
Brian spent the weekend mowing while I took time off to play with friends. I've discovered I don't have to own a cottage on a lake. I just have to know someone who does. Thanks, Barb, for hosting a relaxing and refreshing weekend!
June 16, 2011
Picked the last of the strawberries today and like clockwork the black raspberries are ready! Trellis building continues every evening. We're eating dinner about 10 o'clock. These long days help with evening projects but I'm still not a Daylight Savings fan.
June 23, 2011
Time to renew the State ATC permit. It's a little frustrating to pay this fee again before we've even sold our first bottle of wine.
June 29, 2011
Pesticide damage is evident on the newest LaCrescent leaves, specifically 2,4-D damage, likely from a nearby corn field. The Concords are not bothered nearly as much. I hate to see this happen as it diminishes the vine's ability to gather nutrients through its leaves. At least we are past fruitset.
July 3, 2011
LaCrescents are done with their second touch. After pruning, I made a second pass over the last few weeks to thin clusters and tie up potential cordons.
July 7, 2011
Added some cinnamon sticks to our apple wine for an infusion of spice. Estimating 1 month contact.
July 19, 2011
A stretch of very hot weather is forecast for this week. Picked the first tomato yesterday and it was yummy. I heard the first cicada today, which means something in predicting the first frost, perhaps being only six weeks away. There is some discrepancy as to whether the Dog-day cicada song is the first singular, first chorus or last heard. But who could remember when they last heard something? Thinning Concords now by working a split shift. A few hours early in the morning and a few more later in the evening. The midday heat is too much.
July 30, 2011
Tended Nortons and Swenson Reds. They are so happy to reach the first wire!
"a very close lightning strike"
August 3, 2011
An early morning storm produced 7/10ths of rain. We heard a very close lightning strike that really rattled the house.
August 5, 2011
Joined some friends at the Jazz Festival on the square in Noblesville this evening. Wine tastings were offered by Matteo's, Noblesville's downtown upscale Italian restaurant. I really enjoyed the Sauvignon Blanc from a New Zealand winery. Our friends treated us to gourmet cheeses and breads underneath a cozy canopy.
August 10, 2011
It is evident that two rows of LaCrescent were affected by the lightning strike last week. The leaves on the lowest hanging canes turned an eery gray and now are dying. There is one trellis post whose lower portion is split off and laying nearby, similar to how tree bark is blown away from a struck tree. Also an area of soil mounded up like a huge mole run. The damage is down both sides of an aisle mostly along the bottom wire for about 1/3 of the length of each row.
August 14, 2011
There was a tragic accident at the Indiana State Fair last evening. An estimated 70-mph wind gust caused some stage equipment to collapse on the crowd gathered for a concert. Several are dead and many others injured. We were at the fair 3 days prior and you never think about getting hurt, especially not killed. But we also pushed our luck last evening as we were trying to finish up a project when the wind kicked up. The weather has been crazy with 23 days of 90+ temperatures.
August 22,2011
Using two years of frozen black raspberries picked from the brambles of our front yard, we made a syrup that will become flavoring for a wine base. This time-consuming process paid off with every drop of the precious dark essence.
August 27, 2011
Recruiting the help of friends, we bottled our first commercial batch of wine. We plan to call it Brambleberry as we have its award-winning prototypes. It has a Concord wine base with natural black raspberry flavoring added to it. This lowers the alcohol slightly and raises the acid. We then sweetened it slightly for balance. It's a simple wine but begs for more attention, like the marginalized berry bushes it's named after.
September 3, 2011
Next off the bottling line was Apple Spice. We infused our apple wine with cinnamon for a surprising sensation. Thanks to all who helped us with our first commercial bottling ventures. We worked you pretty hard and you are all saints!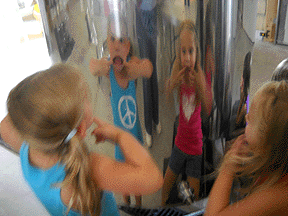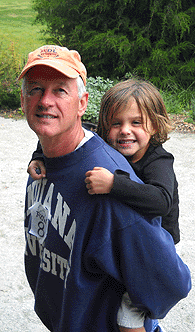 September 6, 2011
Some of those saints even showed up a few days later to help pick LaCrescent grapes! This Labor Day weekend proved to be very pleasant and cool. A low of 51 degrees kept the first day's pressings comfy-cool until the rest came in the next day. The settled juice was pumped to a single tank today and the yeast was released to do its work. Our yield was good despite the loss from lightning damage. We are thankful for the hard-working crew of pickers and crushers!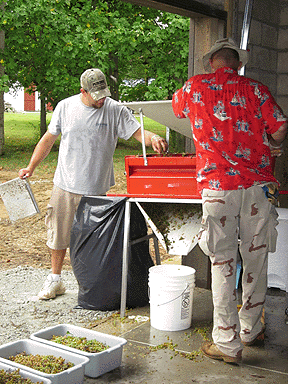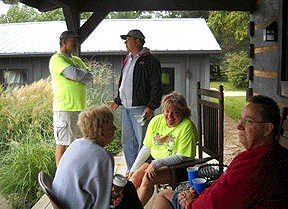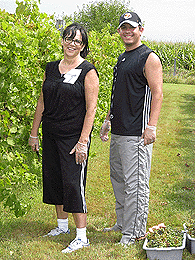 September 10, 2011
We haven't said much about the Prairie Star vines mostly because they've been a little wimpy. This year is the third year we've held them to a low 5-bud bush to focus their energies. But they are more vigorous than I thought and put out some substantial canes that, by the time I noticed, had developed such big clusters it wouldn't save the vine much energy to cut them off. So we picked 56 pounds of Prairie Star today, tight clusters of big cream-colored grapes with a frosty bloom, enough to make several small test batches of wine.
September 17, 2011
Our cup runneth over! The Concord picking revealed a bumper crop. We are at our maximum tank capacity including the use of some borrowed transport barrels. What a nice problem to have!
September 24, 2011
After fermentation and the removal of skins, all of our new wines fit nicely into our stainless steel tanks. We are very pleased with the healthy fermentations and the promise of some happy wines. So it's time to celebrate! A tasting party is planned for October 1st for family and friends to help say thanks for all they've done for us!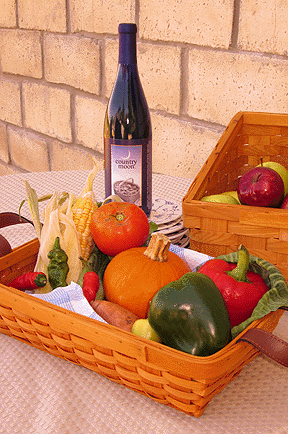 October 1, 2011
A trailer filled with straw bales became the tabletop for our feast. Trying some new recipes and some old favorites we put forth a variety of tastes for the adventuresome palate. Amateur wines were interspersed with our new horizon releases. We are unable to sell anything yet as we await label approvals. It wasn't a night for selling anyway, just celebrating! We even took a victory lap around the vineyard in the hay wagon!
October 7, 2011
The LaCrescent leaves have all let go and blown away. Concord foliage is still barely hanging on. The patio garden is in full fall color with our dogwood tree turning a brilliant red. The forsythia foliage is a deep purple and the chameleon ground cover wears a striking combination of red and green.
October 12, 2011
A large number of tomatoes are ripe now, too many to eat, so I made some tomato sauce. Pretty good but a lot of work. I'm shocked how reasonably priced the canned vegetables are in the store. It doesn't motivate me much to garden for the purpose of canning. But it's been said here before, there's nothing in this world like homegrown tomatoes!
October 22, 2011
Doing some work this week over the legal drain that crosses our property. We are using the tiller and the blade on the tractor to enhance the swale for surface water to move towards the nearby creek. Too many low spots were collecting water from heavy rains and the water would get stuck there. We hope to get some grass seed down as well.
October 25, 2011
Getting acquainted this week with some of the neighbor animals by feeding them while their owners are away. A beautiful black and white cat named Blacktoe wonders how I know the secret to opening his food container. At another farm, the sheep have learned my car already and run to the hay bunk. The dog and cats there all like their treats. It's a treat for me as well just to scratch their furry and wooly heads.
October 27, 2011
A low of 30 degrees tonight, so all the tomatoes came indoors no matter how green. I'll try to ripen them up in paper bags to savor every last bite of summer. We've had several frosts but this is the first hard freeze.
November 2, 2011
Having a little Indian summer now with highs in the 70s. A month ago for the party we had 40s. I wish I could know when these precious warm days will pop back up.
"framed the first dollar"
November 10, 2011
A big day on the calendar for us! We SOLD our first bottle of wine! One of our three label approvals was a real challenge but it finally came through. With labels fresh from the printers, we were finally able to tell someone, "Yes," when they asked if they could buy some wine from us! The arrangement is nothing fancy, just a quick exchange at the door. I WOULD have framed the first dollar but it was actually a credit card. So I had to give that back!
November 15, 2011
Announcements were mailed today to a list of family and friends who have followed the progress of the winery. We want to make wine available to them for the holidays so we'll have some "open" hours at the winery through the end of the year. Our building is not ready for a public announcement and our inventory could deplete quickly. We trust our friends will tolerate the rustic transaction.
December 10, 2011
Today we transferred our new wines off their yeast sediment. The volume loss was 3% and 5% for LaCrescent and Concord respectfully. The drop in SO2 was 80% and 50%. Everything is topped up and secure for the winter. We expect the chill in the building to help with cold stabilization.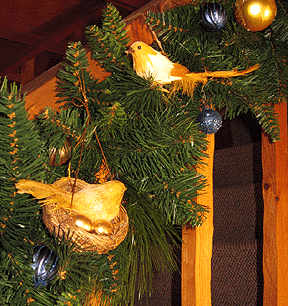 December 22, 2011
It's the first day of winter and we are hosting my family here this evening. Thursday evening is an odd time but that seemed to work best for everyone this year. It's not often we have the holiday celebration at our house and I'm looking forward to a cozy sit-down meal with a little gift giving. The house is decorated more than usual just by chance, or more likely because of a new Garden Ridge store in Noblesville.
December 31, 2011
If you could look close enough at the moon tonight, New Year's Eve, you might see the first of two satellites enter its orbit. The NASA moon mission "GRAIL" (Gravity Recovery and Interior Laboratory) was launched on September 10th. The mission will use the steerable satellites to map the gravitational forces of the moon. Scientists believe it could provide answers to how the planets and moons were formed. The second satellite should sync up tomorrow. Happy New Year!
"And God said, 'Let there be lights in the firmament of the heaven to divide the day from the night; and let them be for signs, and for seasons, and for days, and years. And let them be for lights…to give light upon the earth, and it was so.'"
– Genesis 1:14-15