Vineyard Journal Archives

Spring 2017
We knew 2017 was going to be an ugly year. The county had scheduled work on a legal drain that runs diagonally across our property between the winery and the vineyard. They replaced an 18 inch clay tile with a 36 inch plastic tile. This improvement is intended to drain land from as much as 1/2 mile away. After the crew left, we continued to suffer damage to trees close to the trenched area where roots were damaged. Before and after photos show not only the two pine trees we lost but also high water in the area where drainage was supposedly improved. 2017 would also hold the removal of many dead trees due to emerald ash borer. This discouraging year would need to be met with a big dose of humor, such as our Groundhog Day video post.
Summer 2017
The tile area was soon enough covered with green, although it was mostly weeds, and we proceeded to have a pleasant and productive summer. The Highway 38 Sale had some chilly weather as did Relay for Life, to which we donated an auction basket. The last spring frost occurred between the two events. Our cat, Chardonnay, developed a problem with her ear, spending way too much time in a cone, but she continued her duties of greeting our visitors and checking to see if they had any food.

The unpleasant task of removing 13 ash tree took place in July. Stumps were left in the ground for now and trunks were piled up in the pull off area of the driveway. Anyone want to wager how long they stay there?
"in the path of an airport"
The article breaks today (July 18th) on the front page of a Tuesday paper, "Mysterious development growing speculation." The accompanying photo is a shot of me from behind (which is what some call my best side) reaching up into the Concord vines whose rows seem to stretch to the horizon. A few days earlier the Indianapolis Star photographer had posed me for this and several other heart-tugging images where a humble vineyard might possibly lay in the path of an airport project. The photo aside, I am pleased with how I was quoted, still grimacing from previous unrelated media encounters. The purpose of the article was clear. There is an unusually secretive effort to buy land in an unusually large and specific place. This effort has not used the normal channels of local officials through which one might introduce an economic development proposal. The bottom line for me is "if it has to be a secret, it can't be good." The Star reporter, John Tuoey, throws some shade at the realtors wearing "crisp suits" calling them "interlopers." As real as this threat seems, I just can't believe that our efforts for the log cabin, vineyard and winery will end here with a bulldozer. But maybe what I hope for is only possible in some future perfect world.

"And they shall build houses, and inhabit them; and they shall plant vineyards, and eat the fruit of them. They shall not build, and another inhabit; they shall not plant, and another eat: for as the days of a tree are the days of my people, and mine elect shall long enjoy the work of their hands." —Isaiah 65:21-22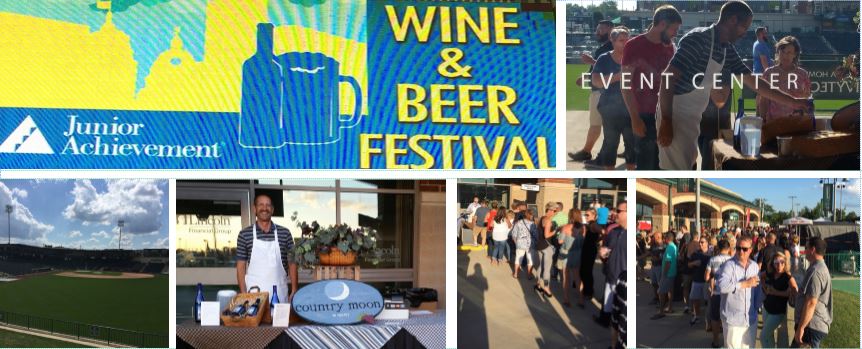 We don't do many outings, but we accepted an invitation to Fort Wayne's Beer & Wine Festival held at Parkview Field. The venue is a beautiful baseball diamond with adjacent event space. It was a blistering hot day but the crowd turnout was great and after the sun dropped the evening was quiet pleasant.

We hosted a Girls' Day Out party for Rachelle and Friends! The day included an oils class, wine tasting, and chair massages. I think there also birthday cake, but a definite good time was had by all.
Another rare outing was a whirlwind trip Brian and I made to see the total eclipse. We left home the day before (August 20th) and stayed in Illinois. The weather was unstable and we strategized by getting in position to drive another few hours west or south depending on cloud cover. As it turned out we needed to be in southern Kentucky for clear skies and drove much out of the way. But we were rewarded with an awesome view of the moon as a black marble in a dark blue sky. A camera cannot capture the dimensionality of it all. It just HAS to been seen with your own eyes. After totality we noticed the crescent shaped lights that filtered through the leaves of the tree. It was like a thousand pinhole images cast onto the blanket. We FINALLY took a decent selfie on this trip. The planets must have also aligned!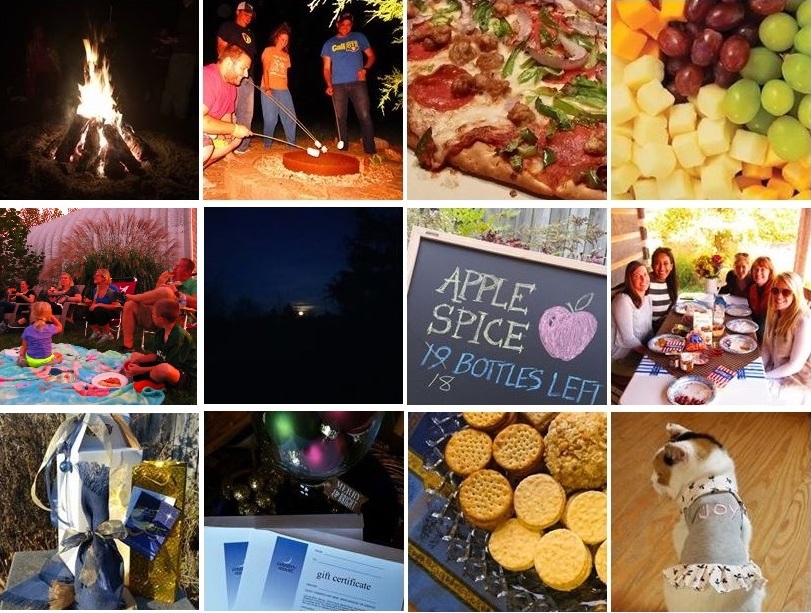 Fall 2017
Rather than always hope for good weather, we prefer to have "pop-up" events when the weather does cooperate. Such was the case October 14th on a Saturday evening. We ordered pizzas and made S'mores around the evening's campfire. Thanks to all who joined us!
"say a few words"
We were honored to have our wines featured at Purgatory Golf Course for one of their wine dinner events. A wholesale arrangement was made for their purchase and they generously allowed me to say a few words about each of the four wines they paired with the wonderful multi-course Thanksgiving meal. Kathi and Bob joined us. It was a lovely evening!
Winter 2017
As our inventory of Apple Spice wine dwindled, we searched for a source for fresh cider and found it in Tuttle's Orchard in Greenfield. They were generous to sell us the remnant of their fresh pressed juice and the new wine got underway on November 28th. Gift certificates and free gift wrapping are amenities we are happy to offer during the Christmas shopping season. A cheeseball recipe was shared on Facebook and warm-fuzzy-cat greetings ended this hair-raising year.