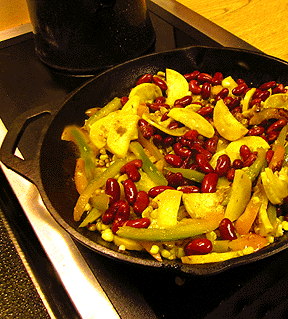 Stir up this late-summer feast with treasures from the farmer's market.
________________________________

3 ears of fresh corn
1 green pepper
1 yellow squash
1 can of red kidney beans
3 tbsp. butter
1/2 tsp. salt
1/2 tsp. cumin
1/4 tsp. red pepper flakes
fresh cilantro
________________________________
Carve corn off the cob. Melt butter in skillet on medium heat and add corn, stirring occasionally. Slice green peppers lengthwise. Slice squash into 1/8″ slices and halve. Add vegetables and beans to corn mixture. Add seasoning, stir and cover until squash is tender. The red pepper flakes add a spicy heat and can be omitted or substituted for a smaller amount of ground cayenne pepper. Add fresh cilantro to taste. Serves 2 as a meal or 4 as a side dish.