A decadent dark chocolate dessert produces shockingly rich results. Try your own combination of dried fruit and nuts.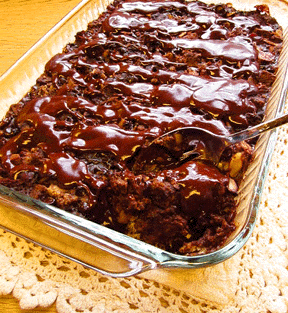 ---
THE BREAD
3 c. milk
3/4 c. cocoa powder unsweet
1/4 c. sugar
6 c. wheat bread cubed 1/2″
3 eggs
1 c. semisweet chocolate morsels
1/2 c. dried cranberries
1/2 c. sliced almonds
1/4 c. quick oats
Preheat oven to 350 degrees. In a saucepan, heat milk over medium heat until steaming but not boiling. Remove from heat, add cocoa powder and sugar. Stir gently and set aside to cool. Grease 9″ x 13″ casserole dish. Choose a sturdy but airy bakery loaf of wheat bread. Cut bread into 1/2″ inch cubes and add to casserole dish. Whisk eggs and drizzle over bread. Measure chocolate morsels, dried cranberries, sliced almonds and quick oats, then shake evenly over bread. Pour milk mixture evenly over bread. Press any dry areas into liquid. Do not stir. Cover with aluminum foil and cook 45 minutes at 350 degrees.
THE SAUCE
1/2 c. milk
1/2 c. port wine (or Native Harvest)
1/4 c. cocoa powder unsweet
1/4 c. sugar
2 tsp. cornstarch
Stir together and simmer on low heat until thick and creamy. Cover and set aside until bread is ready to serve. Reheat sauce and drizzle on individual servings or over the entire dish.