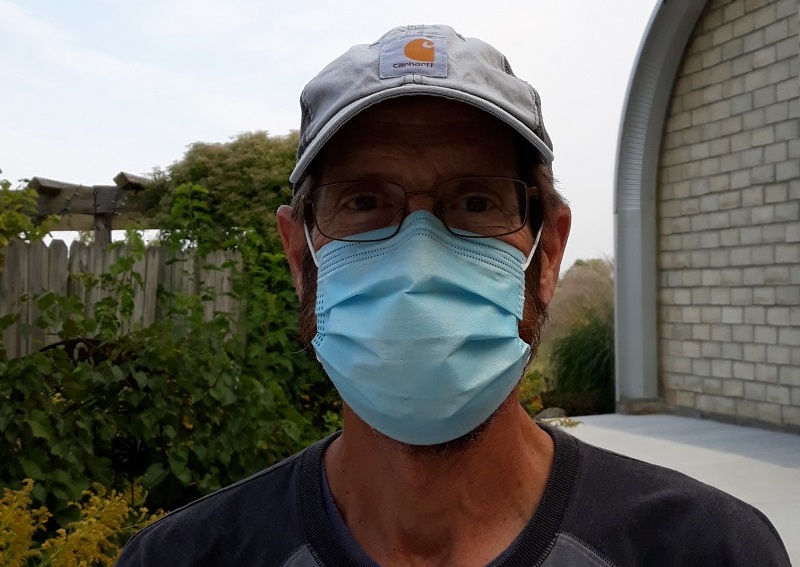 For five Saturdays this summer, we were open for wine tasting and tried to establish a new normal in operations. This included my wearing of a face covering (as Brian demonstrates above) and gloves during the preparation of a disposable self-contained set of wine selection samples. Limiting our table seating to outdoors was already normal for us and adding a one-way traffic flow was easy enough. A few of these days had a heat index approaching 100, but we were happy to be open and provide an opportunity to distance in a social setting.

Then the governor's plan to reopen in stages stalled out. Instead of proceeding to Stage 5 on July 4th, the governor inserted Stage 4.5 that held us at 50% capacity and then issued a mask mandate for all visitors of public places. His order was in response to an increase in COVID-19 hospitalizations across Indiana. In more detail, the Indianapolis mayor retracted the opening of bars and nightclubs, restricting a few wineries in the process.

I am not being critical of the leadership. In fact, I appreciate their courage to make the hard decisions, but this left us in an awkward position.

Adjacent to Marion County, we could still operate…so that's good. But we are just a few miles from Indianapolis – an area determined to be high risk…so that's bad. After much consideration, we decided to take a step backward and again suspend our tastings and outdoor table service starting July 25th. Our current compromise includes party hosting under the new mask mandate plus a few other restrictions. Curbside pick-up continues on Saturdays for customers who call ahead. We feel having an appointment helps us guarantee a safe setting for an expected number of people. For now, this compromise is where your safety, our own comfort level, and the diminished demand for our services all meet. We look forward to better days!