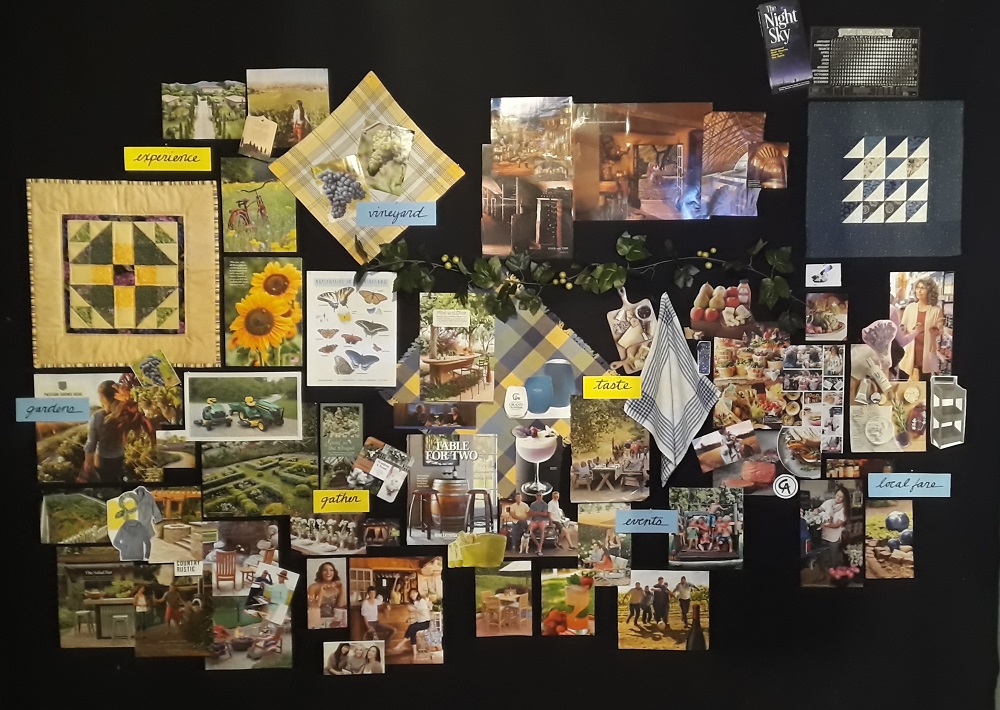 With the "Stay-At-Home" Order it would seem we have a little extra time. Actually we have more than enough to do both indoors and outdoors, but I have allowed myself to finally indulge in some things which were pushed aside. These things seemed less urgent but are still important, like reformatting our Vineyard Journal archives to the new WordPress website, organizing tax file drawers, and creating a vision board for the business.
Vision boards are a Millennial remake of those cut-and-glued posters we made back in school. I had no shortage of magazine clippings collected over the years. They were kept in folders labeled, Decor, Displays, Merchandising, etc. – all for the purpose of inspiration. A basement wall was previously poised with rigid foam and black flannel as a quilt photo background. I thought creating the board would be a project Brian and I could enjoy together but I was wrong. He did find one picture of a fire pit before losing interest. (I believe he shares the vision, but he's not going to sit in the basement and cut out pictures.)
Remnants of my quilt life remain in the mix mostly because I could not bear to take them off the wall. One little quilt represents the vineyard surrounded by corn and beans and the other the night sky; I found they blended well with other elements of our TASTE, GATHER, EXPERIENCE theme. Many of these things have become a reality such as the vineyard, butterfly garden, fire pits, shade sails and new tractors. Others lie on the horizon as we begin work on finishing the interior of our winery building. We look forward to having merchandising space and party hosting indoors. Things like logo glasses are also nearing reality.
The board may have felt a somewhat juvenile effort at times, but I can say it has truly renewed my vision. I remember now the purpose of the soaring ceiling and its cathedral impact. Amidst the pressure of vine-tending I'm reminded of perennial flowers needing planted and experimenting with wine mixer recipes. Most importantly, the smiling faces of happy strangers make me look forward to meeting the wonderful assortment of folks still headed our way.